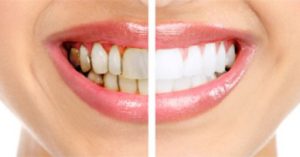 A simple minimally invasive way to brighten up your smile.
In a 2006 consumer survey, the majority of respondents said they would prefer tooth whitening as their first option for cosmetic dental treatment. Tooth Whitening can be completed in different ways. Patients can choose to whiten their teeth in office or at home.
Our in-office treatment is called Zoom!. Zoom! whitening can be fit into almost every persons busy schedule because it only takes about an hour to complete. If you desire we can take before and after photos, after which your teeth will be polished and prepared for Zoom! whitening. We apply a peroxide gel to your teeth and shine the Zoom! light onto your teeth for 3-15 minute intervals. At the end of your treatment you will notice that your teeth will be eight to ten shades whiter. This treatment can be repeated in two weeks, if necessary, to enhance results.
If you want to do the whitening at home, we provide two options. We can fabricate custom bleaching trays that you fill with a peroxide gel. You can wear the trays during the day or at night. Your lifestyle will dictate what is most convenient for you. It is a gradual process of a whitening your teeth. There is a second at home whitening option available called Treswhite. The bleaching trays are disposable, preloaded with peroxide gel and available immediately for you to start whitening. The trays are soft, comfortable, and user-friendly.
For more information about our Tooth Whitening Services or to schedule a consultation, click here.